Considering my interest and my assignments in blogging, I'm going to compare some of the tools I've used. I've looked at a lot of options and I'm always interested in new tools coming out, but in the end these four are the absolute best options out there and I can't find any reason to look elsewhere. If you want an initial conclusion without any description, just use Wordpress. But if you want to compare your options and consider what you're trying to do, read on.
1. Blogger/Blogspot
Description
I don't know much about the history, but I think once it was called Blogspot and then Google bought it, called it Blogger, and subsequently ignored it. but a quick Wikipedia lookthrough confirms that Google hasn't really done anything with it for several years. It's called Blogger but individual blogs are listed under subdomains of blogspot.
Pros
It's easy to write and format your writing. It's fairly easy to customize the templates. If you get a lot of hits, supposedly you can incorporate Google ads and make some money, but I don't plan on getting that much readership.
Cons
Template choice is very limited. It looks like there are a lot to choose from, but most of them are almost identical with just a few differences. Overall Blogger just isn't as visually attractive as Wordpress, both in dashboard and actual blog. It hasn't been updated in a really long time, and I don't know if they ever plan to. It's attached to your Google account. (This is a bad thing, I assure you.)
2. Wordpress (.com)
Description
Something that took me a long time to understand was the difference between Wordpress.com and Wordpress.org. The .com iteration is hosted by Wordpress and it has limited templates and customizability. It's basically like Blogger's good looking cousin. The .org version, on the other hand, is more like a package that you have to host yourself, which costs money. There are endless templates you can apply with endless customization. Because of this, as you can imagine, it comes with a bit of a learning curve. Because of that, and because it's not really free, I'm going to focus on the .com version.
Pros
It's prettier than Blogger. The dashboard is prettier, the templates are prettier, it just looks better in general. It's also updated, which means new templates are added periodically. Once you get the hang of it, it has more features than Blogger as well. It's not attached to your Google account. (This is a good thing, I assure you.)
Cons
The prettiest templates will cost you money. There's a bit more of a learning curve than Blogger. Part of that is the confusing dashboard interface.
3. Weebly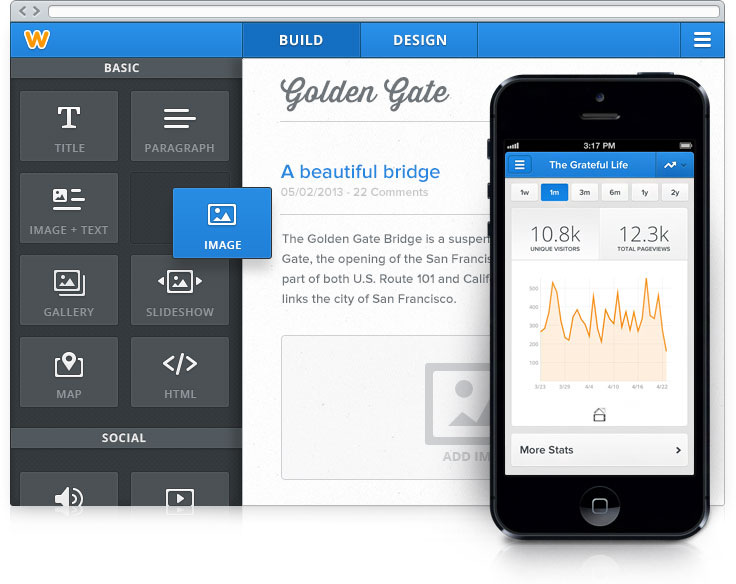 Description
Weebly is more of a website creator (one that I
like a lot
and use for
my own class website
) but it has a pretty decent blogging feature that I use to share random stuff I find as well as my favorite student work.
Pros
The drag-and-drop interface is really easy to use. You never have to go into HTML formatting to embed a video, for example, you just drag-and-drop the embed code element and then paste the video's embed code. There are a lot of attractive templates that are easily customizable. Best of all, as a teacher, you can set it up specifically for teaching purposes, and you can add students so they can make their own sites. (The first 40 or so are free, but on top of that they're about $1 per student.)
Cons
Although Weebly's templates are easily customizable, the amount of customization is limited unless you know CSS. The modular format provided by the drag-and-drop interface eats up space on your page. Occasionally the interface freezes or glitches.
4. Edublogs
Description
Edublogs is basically Wordpress for education. In fact, on the home page, there's a little Wordpress logo with the words "Wordpress for education." It offers a very limited free version and a very affordable pro version at $40 a year. Last time I looked into it, running student blogs through Edublogs cost a little more on top of that, but they may have included that in the pro price because I can't find anything about it now.
Pros
The biggest pro is that Edublogs is built for education, but with the robust core of Wordpress. The pro upgrade is affordable, and you can create student blogs attached to your class.
Cons
The free version of Edublogs is pretty limited, so it seems like you're better off with Wordpress if you don't want to go pro or add students. As with Wordpress, there's a bit of a learning curve.


Conclusion
Because of the popularity of my Harry Potter Monopoly, I've stuck with Blogger in order to increase pageviews. I'm also more familiar with the interface, but every once in a while I get the itch to switch over to Wordpress. If I were asked for a recommendation, it would really depend on what they wanted to do. Even though I use Blogger currently, I'd probably recommend Wordpress for a professional blog. If they wanted to create a teacher website and blog, I'd recommend Weebly. If they wanted to have their students blog, I'd recommend Edublogs. If they wanted their students to create their own websites, I'd go back to Weebly.
Maybe I'll look into how difficult it is to transfer blog content from Blogger to Wordpress.